Testimonials: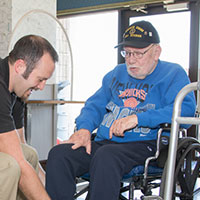 "I was at Norwich Rehab once before following heart surgery, and I came back for therapy after a recent illness because I had such a great experience last time.  It has been more of the same- the nurses are efficient and friendly, the aides are helpful and likeable, and the physical and occupational therapy is excellent.  It's hard work but I can feel myself getting better every day.  My wife is so impressed with how much stronger I'm getting.  Thanks to the team here, I'll be home before I know it!"
— Gerald
Short Term Resident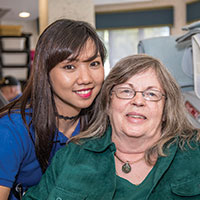 "I recently broke my ankle and after surgery to repair it, the orthopedic surgeon told me I would require physical therapy. I chose NRNC for my inpatient rehabilitation stay, and throughout my work with the nurses and the therapy team, I have progressed from using a wheelchair exclusively to now walking without use of the walker I used prior to my injury! Physical therapy built my strength and endurance and occupational therapy has improved my coordination and balance. The entire staff has been so helpful, even working to schedule my appointments and help me with the transportation to get there. What a stark contrast to the ideas I had about nursing homes! I have kept busy, active, and entertained throughout my stay and feel confident to succeed at home."
— Colleen
Short Term Resident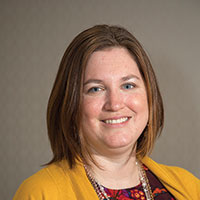 "I came to Norwich Rehabilitation and Nursing Center to work after years of working in the Syracuse area.  My grandfather had a short stay at NRNC for rehabilitation, and I was so impressed with the care he received, both from the nursing department and from the physical therapists, that I knew I wanted to join their team.  I am proud to be part of a facility that is able to do so much good for our residents."
— Erika
Staff
We pride ourselves on providing our community members the highest quality-of-life by partnering with residents and families to foster meaningful relationships. Our hand-picked staff is committed to developing the physical, emotional, and spiritual potential of our residents.
COME VISIT, AND SEE HOW WE MAKE CARE PERSONAL
We offer compassionate and dignified care to promote each of our residents' physical and emotional well-being. Our rehabilitation team provides customized rehabilitation plans and measurable, concrete results, while our long-term care team builds and nurtures our vibrant community.
ALL WHILE PROVIDING PROVEN, HIGH-LEVEL CARE